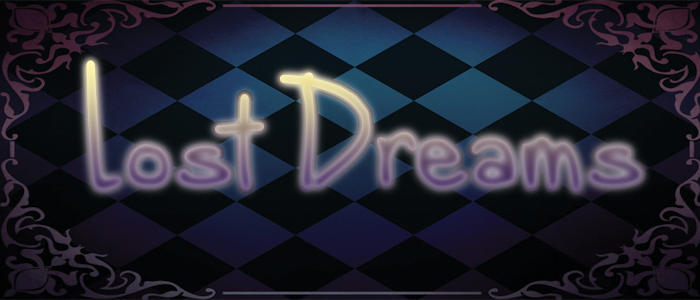 Lost Dreams
A downloadable game for Windows
Once Upon a time, there was an unhappy child. All they wanted in life, was to be happy, and in their dreams, they were. However, all dreams must come to an end someday.

---
Lost Dreams is a game created for My First Game Jam.
The game is very short, only half an hour to an hour long, but it was my first venture into creating almost all of the assets used in the game.
You play a child, who is on a quest to wake up from their blissful dream while the inhabitants of their dream world try to, half heartedly, stand in their way. The majority of the game are simple puzzles, with atmospheric music and surreal inhabitants to the world.
The game features include:
Multiple endings (4 bad endings, one normal, and one true ending)
A rhythm-based battle system
New Game+
Various puzzles and riddles
Warnings for the game include:
Mention of suicide
Mentions of abuse and neglect
Body horror
Scopophobia
Trypophobia
Loud noises
While I personally am not completely happy with the outcome of the game, I am proud of the fact that it is a project that I have actually finished, and am looking forward to the next game jam I join.
---
GAME CREDITS:
Director/Artist/Writer/Character Design
Editor/Muse/Spouse/Beta Tester
Ashfield, my wonderful spouse who has supported me in every project I start
Music
Scripts
XS
Yanfly
Khas
Moghunter
PAC
Killozapit
Zerbu
Formar0153
Raizen
Modern Algebra
Pixels
SFX
You will need to download the RTP for RPG Maker VX Ace though in order to play it. http://www.rpgmakerweb.com/download/additional/run-time-packages
Purchase
In order to download this game you must purchase it at or above the minimum price of $5 USD. You will get access to the following files:
Lost Dream - BUG FIX EDITION -.zip
79 MB
Comments
Log in with itch.io to leave a comment.
This game is dark. The atmosphere was really interesting, like a melancholy fairy tale? Not sure how to describe it, but I enjoyed it but was simultaneously saddened.
Also how do you get the normal ending I only got the true end. Not sure if I actually want to get the normal end, but I'm curious

AAAAAAAH THE F E E L S
How do I get past the letter puzzle towards the end?